When I read STREETCAR in college, I read the story in the warm glow of the idea that this play is indeed a classic. Beautifully wrought, complicated characters in extreme circumstances dancing through a canonical story. I was moved by Blanche's fragility and taken aback by Stanley's violence, but again, somehow it all happened in my mind in the warm glow of a paper lantern.
My professor talked about Blanche's lantern. Her need to control the light and the environment and the people around her. We talked about her manipulation of circumstances and people and her "descent into madness." We talked about her need for artifice – for furs and superior airs and soft light. We didn't talk much about the ragged, inescapable impact of her traumas – of her  guilt and presumed culpability in her young husband's suicide, of the deathwatch she stood over her family while nursing a mortal emotional wound to her own heart, of the sincerity of her love for poetry and great works. We didn't talk about her excessive drinking and sex with strange men and insistent control of her circumstances as her only means of coping with a world that seemed to spin beyond her control and with increasing speed. We didn't really talk about those things. And neither have most productions of the play I've seen (with the exception of Sheila Daniels' production at Intiman in 2008). Nope. In fact, most productions of this play have us pretty relieved to see Blanche carted away in the end, at least in my experience. She's an uppity, neurotic disruption to Stella and Stanley's attempt to make steamy love and a happy home. I've seen actresses play Blanche crazy and, thanks to Marlon Brando's sexy white tshirt, most actors play Stanley as a seething stallion of irresistible testosterone. I've mostly seen their sex played as a foregone conclusion because, sure she's compromised, but what woman really wants to resist a hunk of man like that? And hasn't she been flirting with him for the entire play? Hasn't she sort of asked for it?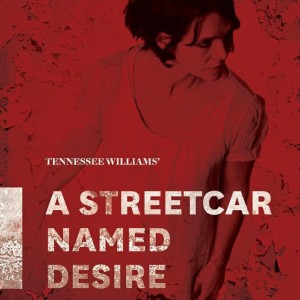 L Zane Jones' production at New City's Shoebox Theater (playing now until Jan 25) asks different questions and offers us new slivers of light into the dark tragedy of Williams' masterpiece. The staging is simple, elegant, evocative and accomplishes claustrophobia, as we watch these characters press into the corners of that long room, and up against the immoveable brick of the upstage wall. She establishes a world where domestic violence and wild lovemaking fold into one another, a world increasingly haunted by ghosts who will pour your drink and pull fabric over your head. Kelli Mohrbacher's Stella is sensual and sweet and so clear, so devoted to the joyful folds of her relationship with David Nail's funny, punchdrunk, lumbering Stanley. He isn't Marlon Brando (THANK THE GODS), but is a regular guy with a helluva lot of charisma and a confidence that makes up for the fact that he's not a movie star. I know Christopher Frizzelle gave him a knock in The Stranger here, but I really disagree. This Stanley is the kinda guy who girls like Stella fall for, and who bruises his way through life with sheer force and good jokes. And who is sick of getting kicked and has a formidable capacity for violence that outpaces his sense or shame. I like him when I meet him but, by the end of this play, I don't forgive him. For his brutality with Blanche and sabotage of Mitch, for the way he muscles Stella. I don't forgive him for needing to own everything in his house and then destroying everything he owns.
Of course, the last and very real reason you should go see this production while it lasts is Robin Jones in the role of Blanche. Rather than a pitiful descent into madness, Jones plays Blanche with nuance and humor while the demons circle in on her. She plays action, pushing up on the weight of hopelessness heaving down on her. And with Sam Read's earnest Mitch, we see her find hope. So often that relationship is sent up as a manipulation, played as though Blanche is angling Mitch into marriage. But in this production, we see hope. Two lonely people who might actually be a perfect match, until Stanley destroys the prospects. And then we watch Robin Jones navigate  Blanche's images and memories and paralyzing fears with such great specificity. We don't see a "crazy woman." We see a woman trying to make sense of an unbelievably cruel fate.
I learned so much about this play through this production. I often hear theatre artists talking about "breathing new life into classics" but that is a lot harder to do than to dream. Civic Rep does just that in this DESIRE. Go.