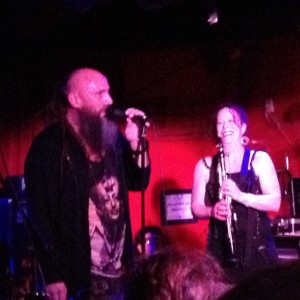 Tonight I landed in the dance pit in front of my old friend Gino, watching Kultur Shock lead a crowd of bouncing bodies into joyful revolt. If you haven't heard their music or seen them play, they are an international Seattle-based band that slams together punk, metal, and traditional Balkan music often resulting in a gypsy mosh pit and a sense of nomadic catharsis. Whenever I see them, I feel sort of like a political refugee that has suddenly found myself among my people and it is somehow all of our birthdays on the same day and we must celebrate. And knock the dust from the ceiling with our jumping up and down. And sway and then bang together. The crowd is always filled with old people with greying hair and young men with rowdy pony tails and girls in hippie tank tops. And it does feel as though we are sharing in a joyful revolt. Which I needed tonight.
They played Chop Suey, which they often do, and most of the folks reading this probably know that Chop Suey will be going away in a small count of days. And I felt nostalgic tonight. I've been in Seattle since 2001 and for most of that time, I've been attending shows there. In grad school, my friend (and now reigning comic genius) Trish Nelson and I went to see Reggie Watts play with Maktub there on Halloween. She spent all day and over a hundred dollars creating a shower costume out of PVC pipe (inspired by Ralph Macchio's getup in The Karate Kid) because she had a vision of bobbing around in the crowd anonymously. At one point, she dropped her wallet and took out an entire table full of cocktails reaching for it. I also attended Sun Tzu Sound's first TRUSTs at Chop Suey. And saw a Blue Scholars show there that made my brain dance. One time I saw Saul Williams rhyme there and was so moved that I went home and wrote him a letter. As I got older, sometimes I would hide away on a Saturday night and go dance there by myself. When I was working on my rock musical RIDDLED, I'd go to Chop Suey to listen to soul music and try to discover how the character in that show moved when she closed her eyes. Unlike most venues in this city, I never felt strange going to Chop Suey by myself and it felt good to go back there tonight.
It's been awhile since I've lived on Capitol Hill and a long time since I stepped out of the conversations protesting the development there, but tonight I had that familiar pang again. It will be such a shame when all the old, dirty places are gone.