INDUSTRY 
A new musical by Naomi Morgan and Michael Nutting, Directed by Marya Sea Kaminski
5th Avenue Theatre's NextFest, March 2018
Industry shares some true stories of women who work in the Strip Club industry. Running from the past, Vivian is content in her new life as a stripper. Finally! On one very particular day, Vivian is agitated when her younger sister, Lisa, shows up at her work in a desperate attempt to make amends. Vivian refuses to forgive her sister for her past mistakes and insists she leave the club immediately. Not ready to give up, Lisa agrees to participate in the night's amateur contest to bide some more time with her sister. Danger and harsh realities surface, not to mention… a CATFIGHT. Unexpectedly, it backfires as Lisa begins to feel at home in the strip club. Vivian fears her new life is threatened if her sister decides to insert herself, especially with everything they've been through.
RUMBLE
A new musical by Andrew Russell and Richard Andriessen, Directed by Marya Sea Kaminski
5th Avenue Theatre's NextFest, March 2018
The Rumble Within  is a brand spanking new musical inspired by the life and times of Linda Hazzard, the legendary Seattle health specialist who fasted people to health and also…death. While, yes, this is the story of how Linda fasted dozens of wealthy patrons to death in the early 1900s, this musical looks at her relationship to the fast-talking and boisterous Daisy Haglund (mother of Ivar Haglund, for those of you rooted in the Pacific Northwest). This over-the-top musical feels like someone has blended Sweeney Todd with all things Richard Simmons—in terms of what it is exploring through music, myth and how revenge and power work in America…especially when mixed with hunger for food, sex and anything else that might satisfy that terrifying rumble within.
---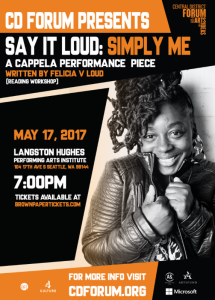 SAY IT LOUD
A musical journey written and performed by Felicia Loud, Directed by Marya Sea Kaminski
Langston Hughes Performing Arts Center, March 2018
---
Want news and jokes delivered straight to your inbox?